Euro identification
Whether you are in the public or private sector, a business, school, university, health service, local or national authority or any other organisation we can help you protect, manage and recover your IT equipment and other valuable assets in the event of theft or loss.
Euro Identification has developed a new generation of antitheft markings to protect valuable assets. The company offers a wide range of identification systems, from standard security labels to the most sophisticated anti-theft marking system available on the market.
The efficiency of the Euro-ID Security markings is reinforced by included the following services: The IRS (International Recovery Services) will help to recover identified equipment in case of loss or theft. The AMS (Asset Management System) offers a powerful online system to Manage identified Assets.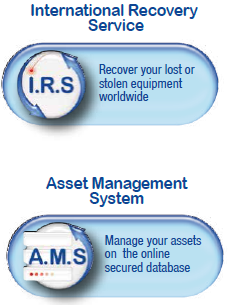 Euro identification works with many of the major computer manufacturers (DELL, Toshiba… ), and IT integrators and distributors throughout Europe (Ingram Micro, Computacenter, SCC, ATEA, TDC… )
All security markings designed and manufactured by Euro identification are marketed and supplied through its international network of partners. 
If you would like to receive more information about Euro-ID Security markings, do not hesitate to contact your local distributor.